Hillary Clinton disappeared from the public eye following her speech conceding the 2016 election to Donald Trump.
Some pundits wondered if the Clintons were being airbrushed out of political life.
But when she remerged one week after her defeat, Americans were stunned by what they saw and heard.
Clinton's first public appearance following her loss was at the Children's Defense Fund's "Beat the Odds" Gala.
Her speech revealed a deeply wounded candidate who was still in shock over her defeat.
CNN reports:
Hillary Clinton, in her first public speech since last week's crushing presidential loss, admitted making the appearance "wasn't the easiest."

But speaking at the Children's Defense Fund's "Beat The Odds" Gala on Wednesday night, Clinton emotionally reflected about the 2016 loss and how she wished she could tell her mother — who decades ago was abandoned as a child — that her struggles were worth it because of what her daughter had accomplished.

"I will admit, coming here tonight wasn't the easiest thing for me," Clinton said. "There have been a few times this past week where all I wanted to do was curl up with a good book and our dogs and never leave the house again."
But what shocked many Americans was her appearance.
Her hair was unkempt and sloppy.
And she looked much older than her 69 years of age.
Gone was the perfectly dressed and maintained politician Americans had been used to seeing for the better part of two decades.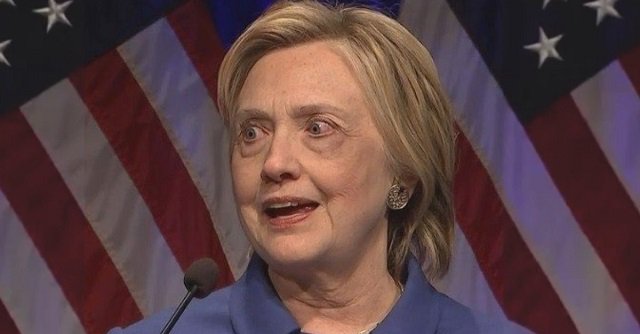 Rush Limbaugh commented about her looks on his show.
Western Journalism reports:
"You're not supposed to say these things, but my friends, if you can catch the video, you just need to look at it for a minute and a half and catch a still shot," Limbaugh said. "The difference in Mrs. Clinton's appearance from, say, the last week of the campaign or even the day after the election to last night is striking."

Limbaugh acknowledged that his judgment of Clinton was not politically correct.

"Gone was this Princess Diana haircut or whatever they were trying to make it look like," he said. "Gone was — there was no makeup. The hair was flat and just hanging there. It had not been styled. There obviously was no makeup, obviously. I know you're not supposed to say these things. Saying these things is considered to be misogynistic and anti-women. It's not. I'm making an observation. She's a human being."

Clinton's exhausted demeanor was indicative of how she felt throughout the presidential race, Limbaugh argued.

"The Mrs. Clinton we saw last night's the real Hillary Clinton — tired," he said. "She admitted that she's been wanting to crawl up with a book and pretend that nothing in the last six months ever happened. She told 'em this last night. She told 'em how tough it was. She didn't want to be there last night but she felt a duty to the children to show up."
Whoa… unkept/unwashed Hillary Clinton appears in public for speech. Looks worn out and sketchy. pic.twitter.com/8zyAFsqT9S

— TheLastRefuge (@TheLastRefuge2) November 17, 2016